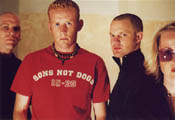 Psalmistry are a Bristol based 4 piece rock breakbeat crew who ramraid their beats and rhymes into senses. With elements from metal, hiphop, techno, drum & bass and punk, this live experience continues to thrive in the millennium rather than fade away. Since 1996, the band -- Edi (MC) Tony (keys + programming) Matt (drums) and Helen (vocals) -- have played throughout the UK & Europe as well as on national TV and radio. The band formed around Edi and Tony's Live PA, and with drums and vocals, became a live act with a raw ferocity which has become more and more apparent on stage. Their two albums (released on small independent labels) recall The Prodigy, Linkin Park, Senser, Chemical Brothers, Garbage etc. and feature harsh breaks, raw rhymes, and soaring vocals. Both Albums have been well received across the globe, in Europe, Australia and the USA. Described as "..the all sounds in one" band, Psalmistry are continuing to enhance their live reputation and recording profile by throwing themselves whole heartedly and head first into their global breakbeatechnothrashiphoptechno assault.
Latest News: 10th Oct 2002
Plans for a scaled down version of the planned "Christmas Rock Night" in London this autumn appear to be going ahead, with news of 7 events over the weekend of 6/7/8 December at London's Garage venue. YMCA and Asylum will be working together for a night on December 8th which will feature Steve, Psalmistry, Fire Fly, Kosher, Xphere, V-12, Axlanbay and Zedisforzebra. It looks like Fono will be returning to the UK for one of the events, and other acts said to be appearing include hotly tipped bands Elviss and Reuben.
* more Psalmistry news - britlinks news
Forthcoming Concerts:
Since Britlinks is no longer updated, we have no details of upcoming concerts.
* complete gig list for this artist: pop-up/new page
Reviews: