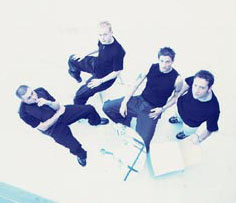 This band has not yet submitted a biography. Please feel free to e-mail them (nicely) suggesting they contact us about it.
Latest News: 13th May 2002
The organisers tell us that this year's grassrootz festival is going to be bigger and better than last year's huge success - around 2000 people are expected to attend this year's one day festival in Kent on 20th July from noon til 10pm. Acts so far booked include YFriday, Steve, My BottleRockit, Cashu, My Kid Sister etc as well as poet Stewart Henderson and Escapologist Steve Legg, and there will also be a range of stalls and other activities.
* more YFriday news - britlinks news
Forthcoming Concerts:
Since Britlinks is no longer updated, we have no details of upcoming concerts.
* complete gig list for this artist: pop-up/new page
Reviews: