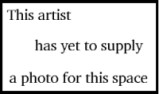 This band has not yet submitted a biography. Please feel free to e-mail them (nicely) suggesting they contact us about it.
Latest News: 11th Oct 2002
Tim Sherrington and namelessmusic continue to be busy with regular worship gigs around the south east. They have also announced a short tour of scotland taking in Aberdeen, Banff and Inverness between Fri 25th and Sun 27th Oct. During the trip you will be able to check up on how they are getting on via a special mini-site section of their website. They will be posting pictures, news, your emails and more as it happens from the morning of Fri 25th Oct.
* more Tim Sherrington news - britlinks news
Forthcoming Concerts:
Since Britlinks is no longer updated, we have no details of upcoming concerts.
* complete gig list for this artist: pop-up/new page
Reviews: