Britlinks is no longer actively maintained, but is preserved here as a historical record. Something of the history of the site can be found on this page.
Tim Cooper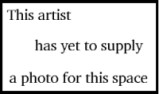 Tim Cooper is a musician and worship leader. He has played in Ipswich based band Thursday's Child for 6 years and has been involved in several locally produced CD's and other performances. Tim has been involved with leading worship at many events in the Ipswich area and beyond.
Latest News:
We haven't carried any news about this artist yet.
* more Tim Cooper news - britlinks news
Forthcoming Concerts:
Since Britlinks is no longer updated, we have no details of upcoming concerts.
* complete gig list for this artist: pop-up/new page
Reviews:
Web Site(s):
E-Mail:
Recent Releases:
* complete discography: pop-up/new page
* search for records: amazon.com or amazon.co.uk
Recommendations - If you like this band you might like:
Sound Files:
Return to site index
Britlinks was once designed, maintained and © James Stewart