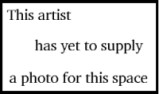 This band has not yet submitted a biography. Please feel free to e-mail them (nicely) suggesting they contact us about it.
Latest News: 03rd Jul 2002
Greenbelt have announced their full lineup in their latest publicity mailings and web site updates which have appeared this week. Headline music acts will be Over The Rhine, Jazz Jamaica All Stars, Faith Folk and Anarchy (Martyn Joseph, Tom Robinson, Steve Knightley) and Delirious??. Also on the music bill are Steve Lawson and Jez Carr (our current featured album), Kevin Max (dc talk), Cephas, Green Jade, Earthsuit, My BottleRockit, Dust, Cathy Burton, Steve, Kosher, Abundant, Ben Okafor, Lies Damned Lies, Airstar, Bell Jar, All Star United, Psalmistry, Julie Lee and many others. For full lineup details see the the festival website, which contains a rundown and is also featuring daily updates highlighting different areas of the festival programme.
* more Martyn Joseph news - britlinks news
Forthcoming Concerts:
Since Britlinks is no longer updated, we have no details of upcoming concerts.
* complete gig list for this artist: pop-up/new page
Reviews: