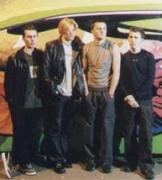 Eskimo Sunbed are a 4 piece rock/funk band based in Neath/Swansea, South Wales. Gareth and Paul formed the band in late 1998, with their first recruitment being guitarist Christian Carpenter. The trio began writing songs and asked Luke Morgan to join them on lead guitar, handing lead vocal duties to Christian. Since their first recording in February 2000 they have been busy gigging locally and nationally, aiming to provide a tight, high energy performance.
Latest News: 27th May 2002
Axlanbay are a recent introduction to our band listings. Following quickly in the wake of Eskimo Sunbed, former members Luke Morgan and Gareth Edward have joined forces Joey and Rory O'Hare on bass and drums and are currently rehearsing hard.
* more Eskimo Sunbed news - britlinks news
Forthcoming Concerts:
Since Britlinks is no longer updated, we have no details of upcoming concerts.
* complete gig list for this artist: pop-up/new page
Reviews: