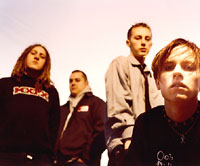 Surrey based Cephas are in their words, "Punk rock's answer to Cliff Richard." In the time the band have been together they have been responsible for a respectable amount of controversy in the punk scene, bringing their in your face "Punk is Dead, Jesus is Alive" message to a number of Punk, Goth and Metal kids. Cephas aim to have the attitude of the Sex Pistols mixed up with the melodies of bands such as Green Day and Blink182.
Latest News: 24th May 2003
Surrey based punk band Cephas, who have built up quite a following over the past few years through their regular touring, have announced that they will be splitting up after this year's Greenbelt. Drummer Ray and his wife are expecting a baby in January and guitarist Adam is leaving the band to study for a degree, so the band felt that the time had come to call it a day. Vocalist John and bassist Andrew are currently "pondering on life and looking to work on a new project."
* more Cephas news - britlinks news
Forthcoming Concerts:
Since Britlinks is no longer updated, we have no details of upcoming concerts.
* complete gig list for this artist: pop-up/new page
Reviews: