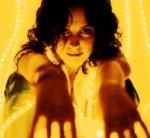 Innocence. Passion. Beauty. Surrender. All those words and more spring to mind when listening to Burn Out, the dynamic debut album from one of Britain's most gifted female singer-songwriters. Cathy is a solitary artist painting delicate ballads. She's a wild flower adorning a hard rock soundscape. She's a rare talent. Cathy has supported Delirious? on tour, recorded with Elton John producer Gus Dudgeon and worked with Paul Stathan, writer of Dido's hit 'Here With Me'. This creative 20-something pulls the stops out and serves up not only a voice and sound that are uniquely hers ... but also a blend of musical strength, spiritual depth and human frailty.
Latest News: 22nd Jan 2003
Word is appearing on the net that Delirious? and Cathy Burton will be playing at Camden Underworld on Tuesday night. The 500 capacity venue is significantly smaller than any Delirious? have played in the capital for some years and this gig is apparently to be an industry showcase of some sort, with a limited number of tickets on sale to the public at a very low price. Expect an announcement on the delirious? website shortly.
* more Cathy Burton news - britlinks news
Forthcoming Concerts:
Since Britlinks is no longer updated, we have no details of upcoming concerts.
* complete gig list for this artist: pop-up/new page
Reviews: