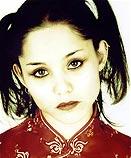 Caroline Alexander is 19 years old and is from a Jamaican / English background. She lives in Tottenham, North London and since bursting onto the rock scene in 2000 has produced a string of recordings on Organic and gigged mainly in the South East but also at Festivals across the UK including three performances at Greenbelt. Her music is rock, and if you think Skunk Anansie and Guano Apes with a touch of Bjork and Sex Pistols you are beginning to get the picture. Already with a host of radio, TV and magazine features behind her in the mainstream, she is now set to release her debut studio album in 2002 and start touring the UK. Although not a CCM artist, her band has Christians within it and her music is about justice. She strongly supports "Drop the Debt" and thinks that her beliefs are best expressed through her music/lyrics which is suitably loud and angsty.
Latest News: 09th Nov 2001
For some years now the Christmas Rock Night event in Germany has attracted many rock fans from across Europe. This year two events in the UK are hoping to follow in that tradition, with Superhero, IndigoEcho and others taking to the stage for two consecutive nights in Edinburgh and Broughton, and Bushbaby and Fire Fly playing support to Caroline Alexander in London. Check out the gig guide for more details.
* more Caroline Alexander news - britlinks news
Forthcoming Concerts:
Since Britlinks is no longer updated, we have no details of upcoming concerts.
* complete gig list for this artist: pop-up/new page
Reviews: