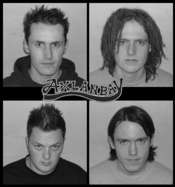 Axlanbay are a 4 piece rock outfit based in Swansea, South Wales. Citing influences from System of Down, Faith No More and Incubus, Axlanbay is a fusion of rock, metal, rap and funk. The band is fronted by Gareth, who delivers unique and powerful vocals. Guitars are provided by Luke, on lead and Joe on bass. Rory is the band's drummer and an accomplished keyboard player. Combining percussion and instrumental pieces with a high energy set, Axlanbay are gaining a growing reputation as a live act.
Latest News: 10th Oct 2002
Plans for a scaled down version of the planned "Christmas Rock Night" in London this autumn appear to be going ahead, with news of 7 events over the weekend of 6/7/8 December at London's Garage venue. YMCA and Asylum will be working together for a night on December 8th which will feature Steve, Psalmistry, Fire Fly, Kosher, Xphere, V-12, Axlanbay and Zedisforzebra. It looks like Fono will be returning to the UK for one of the events, and other acts said to be appearing include hotly tipped bands Elviss and Reuben.
* more Axlanbay news - britlinks news
Forthcoming Concerts:
Since Britlinks is no longer updated, we have no details of upcoming concerts.
* complete gig list for this artist: pop-up/new page
Reviews: